While we did not travel far yesterday (only to our neighborhood park), this is a story worth sharing.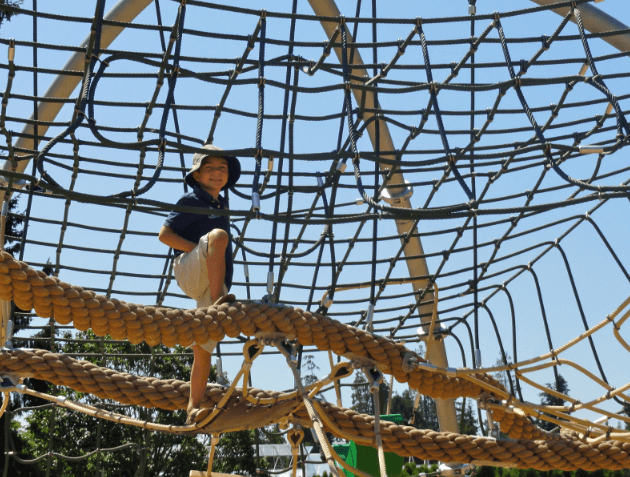 Yesterday afternoon, I took my two children and their friend to a park in our neighborhood.  It has a great playground, but even more fun for the kids is the little wooded area in one corner, where they can build forts, play hide-and-seek and pick huckleberries.
note:  I already know what you are thinking. What kind of mom let's her kids go into the dreaded wooded area?  Apparently this one (and a few others I have noticed over the years).
As a rule, I always go in with them, but unfortunately I was a few steps behind due to the fact that I was ever so gracefully cleaning up after our large black lab Lucy.
Within seconds of entering the forest, my son's friend came tearing out, running as fast as I have ever seen him go, yelling, "GET OUT OF THERE YOU GUYS !" .  Alarmed, I called for my own children, who came tearing out right after him. When I finally caught up to them (they were not stopping for anyone), they breathlessly told me what they had witnessed.
"There was a hunched over man, with blood all over him, who had been stabbed. He told us 'You better get out of here! ' "
"There was another man in black coming towards us !"
"The bleeding man was walking quickly away from a bunch of people at a table barbecuing!"
That last one seemed a little odd. The red herring, if you may.  I had never seen people having a barbecue in the trees at this park.
I herded the terrified children into my car and called 911.  It was a stressful 10 minutes because while I was on the phone with the police, I could see what was obviously the deranged psycho, dressed entirely in black, skulking around the edge of the forest.  I was also trying to warn other families that seemed to be coming from every direction and heading towards the woods. It was like one of those action movies where the protagonist realizes a whole population is at risk, yet those people are entirely unaware of the imminent danger.
Within minutes, four squad cars including some undercover police were on the scene circling the forest. I was proud of the description the kids were able to provide to our assigned police officer of the injured man.
"He was wearing a light blue polo shirt and dark jeans."  (from the friend)
"He had dark brown hair and was a little shorter than dad."   (from my own son)
"He had black hair and blonde hair and some brown hair."   (from my daughter)
Okay, maybe scratch that last one from the record.
Then, after what seemed like an eternity, three scratchy words came over our officer's radio.
"It's a movie."
It's funny how in hindsight something can become so obvious. The table, the man in black…..
Still, I praised the children for doing everything right.
To the man with the fake stab wound, and the film crew, I have three words.  "What the F?".  Perhaps next time you bump into a group of kids in the forest you might say 'Hey kids we're filming a movie rather than, "You better get out of here.".