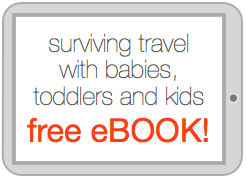 My husband and I took our first major trip with our son at 4 months old.  In the weeks leading up to the trip, I remember burning the midnight oil (I was up anyway), scouring the web for information on flying with a baby.   While the trip went well, I definitely felt that there was room for improvement, and set to work trying to figure out what I could do to make the next trip better.
If you are reading this, you are already so far ahead of the game. If you believe as I do, that preparation is the key to success, then there is help.  Over the years I have kept detailed notes on tips for travel with babies, toddlers and kids, and have finally put it together in an eBook. This project is a result of 60+ flights with my children (often traveling 24 hours to get to our destination), and from hundred of conversations and online interactions with other family travelers and travel professionals.  As someone who may be borderline obsessive compulsive, I have just wanted to get it perfect !
I would like to offer my eBook free to you, asking only for a little love and support for my website in return, by liking my Facebook page and subscribing to my monthly newsletter (full of more tips, hot destination recommendations and cool new travel product reviews) .  Your support will help to allow me to continue sharing tips for travel with kids, rather than returning to my old industry where I would have to Botox the heck out of my face, to compete with the Millenials that I would now be applying against (fashion is fickle).
Within 24 hours of confirming your subscription, you will receive my eBook via email.  Thank you in advance for your support !