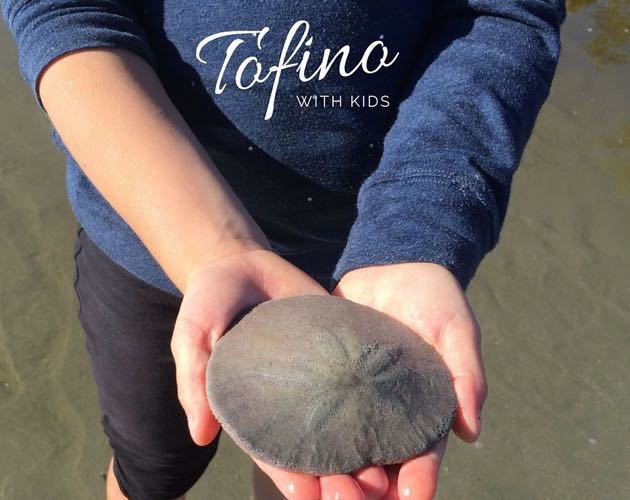 My kids give Tofino, British Columbia a ten out of ten. In all of our travels, there have been precious few perfect tens, and it pleases me that one of the few comes from a place so close to our home of Vancouver, Canada. They love the sandy beaches, the giant tidal pools, the wind swept waves and the tranquil forests. I love all of that too, but I am also very partial to gorgeous boutique hotels and great restaurants –  something that Tofino has no shortage of. It is suffice to say that no one in our family needed any encouragement to make a recent return trip  to this amazing place – even our dog seemed excited. For this post, I have put together a guide to all our favourite family-friendly hotels, restaurants, attractions and special places. Start with this little video, or just read on.
Why Tofino?
Family Friendly Accommodation in Tofino
Activities for Kids in Tofino
Family Friendly Dining Tofino
Getting There
.
Why Tofino
You could not imagine a better spot to appreciate the wilds of Canada's Pacific Coast. Visit for the endless sand beaches, great surf, thousand year old trees, fantastic hiking trails, wildlife sightings (whales, black bears etc.) and world class dining.
.
Top Family Friendly Hotels in Tofino:
There is no shortage of family friendly accommodation in Tofino. Book early as these resorts often sell out way in advance. High season for Tofino is July-August and can get very pricey. We like to visit in May/June or September when prices are significantly lower but the weather is still nice.
The Long Beach Lodge Resort
The LBLR is located beachfront on the beautiful Cox Bay. Rooms are thoughtfully appointed and west-coast cozy (lots of wood and windows).
Price: $$$
Class:  4 star
Reviews: 92% of family reviewers rate as 'very good' or 'excellent'
Family Friendly Features: 2 bedroom cottages with full kitchens, DVDs and games for loan, onsite laundry, surf lessons, excellent restaurant with kids' menu, pet friendly.
What could be even better: Improved wifi service (it's coming) and an enclosed fire pit off the beach for making s'mores (the resort borders Pacific Rim National Park so beach fires are banned).
For availability: see website
Tip:  See their specials page for more information.
Read More: Find our full review of the resort here.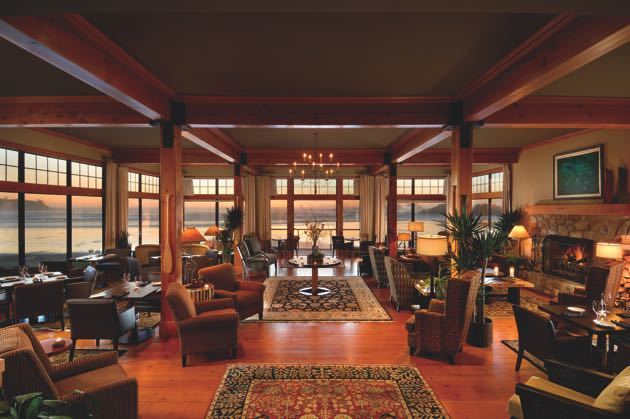 The Pacific Sands Beach Resort
This is the resort that I would like to try next time we visit Tofino. It is family run and is located on a sprawling beachfront Cox Bay property with incredible views. It is both family and pet friendly.
Price: $$$
Class: 4 star
Reviews: 93% of family reviewers rate as very good or excellent on Tripadvisor
Family Friendly Features: studios up to 4 bedroom suites, complimentary summer kids' camp, covered fire pit for roasting s'mores, pet friendlly.
For availability: See website.
Tip: See their special offers page for deals.
The Wickaninnish Inn
"The Wick" is a luxury property located on Chesterman Beach that frequently wins international awards (ex. "Best Canadian Resort –  Conde Nast Traveler 2014"). We had a very nice experience at the property with our kids several years back.
Price: $$$$
Class: 5 star
Reviews: 91% of family reviewers rate as very good or excellent on Tripadvisor
Family Friendly Features: Fantastic beach front location, excellent welcome basket for both kids and pets, free babysitting when you dine at their highly rated "Pointe" restaurant, a selection of children's books and games for loan in the library, complimentary nature walks and bonfires on the beach with s'mores. See their kids and pets page for more information.
What could be even better: This property is sometimes criticized for having spotty service (for the price it commands). Be sure to read current reviews from families before booking.
For availability: See website.
Tip:  There are two separate building, each offering distinctly different views (calming beach view vs. rugged coastal view)  Check out the photos on their website to see which you would prefer.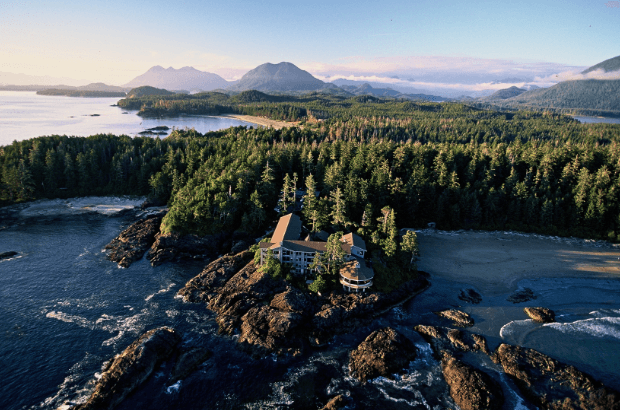 .
Family Friendly Activities and Attractions in Tofino
Sandy Beaches and Tidal Pools
There are many great beaches to explore in Tofino, but our favourites are Chesterman, Mackenzie and Cox Bay for their endless sand and super-sized tidal pools . Mackenzie is a little more sheltered for little ones wishing to do a little wading, although remember that the water is quite cold (temperature peaks at about 17°C or 63°F). Optionally warm up later by a bonfire with is allowed for most of the year on Chesterman and Mackenzie (although there can sometimes be a ban in the peak of summer). Beach fires are not allowed on Cox Bay due to the fact that it borders Pacific Rim National Park.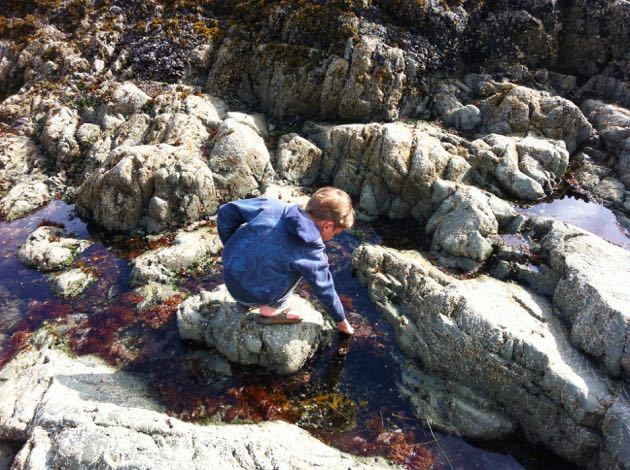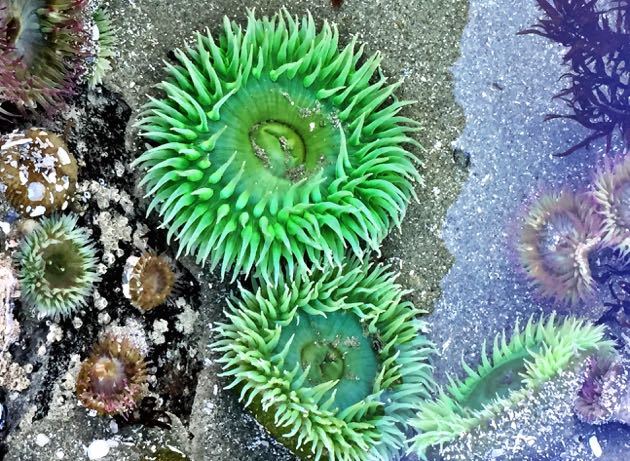 Surfing 
The local shops offer private surf lessons for kids as young as six. Another option is to take a family surf lesson that is offered by a number of highly rated outfits including Pacific Surf Co., Live to Surf, and Surf Sister (on select weekends Surf Sister also offer the Billabong 2 day Family Surf Camp). If you are just looking to rent wetsuits or boards, Pacific Surf Co. and Live to Surf can get the whole family set up. Be aware that you will require a wetsuit for these chilly waters.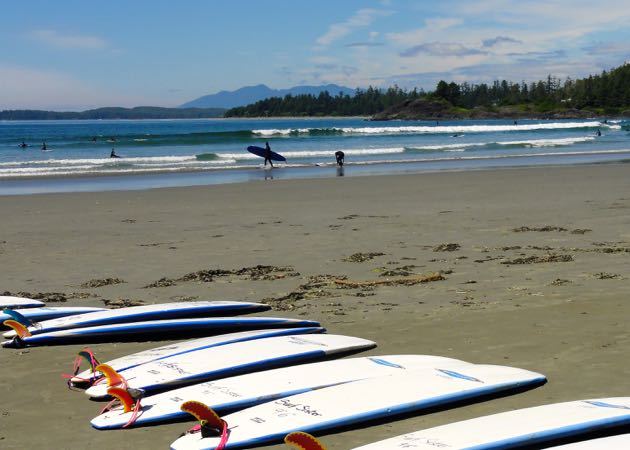 Playgrounds and Skate Parks 
In the town of Tofino, there is a wonderful little playground for toddlers and older children alike. Picnic tables and washrooms are available. It is also adjacent to the Tofino Tuff City skate park.
Another great playground is located within the Crystal Cove Beach Resort near MacKenzie Beach.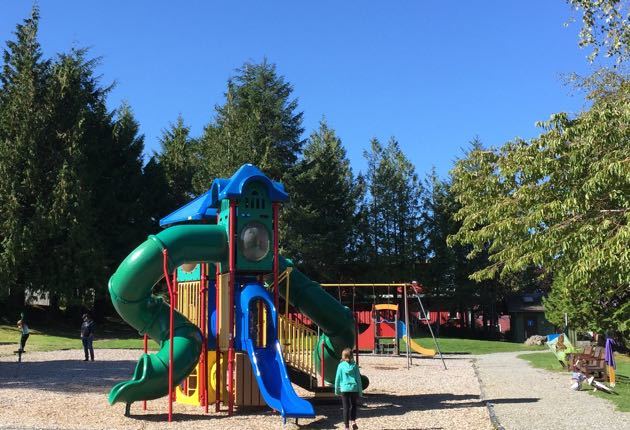 The Saturday Market (website)
When: May-Sept 10am – 2pm
Experience something truly local by visiting the Tofino Public Market (their motto is "Make it, bake it, grow it and gather it").  It is fun for the whole family with its festive atmosphere, great food, and unique local products.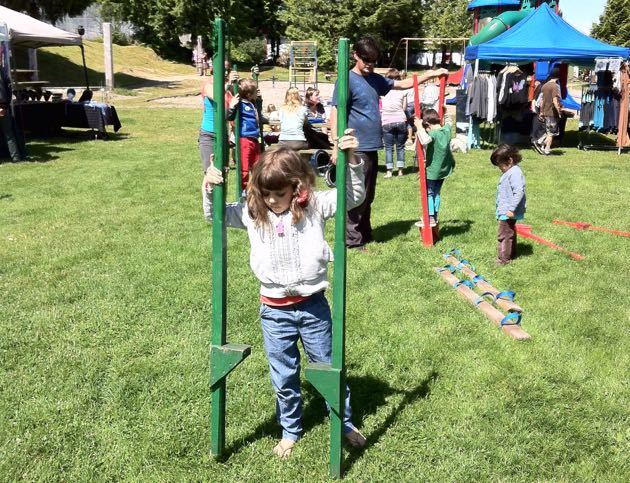 Riding and Bike Rentals
Many hotels in Tofino have bikes for loan. If, however, you are in need of a baby seat, trail-a-bike, or bike trailer, try Tofino Bike or  Tons of Fun Bicycles Tofino (TOF). You may want to call to reserve ahead of time since these units can be very popular.
Sea Kayaking
Tofino Sea Kayaking Company (website)
Tofino Sea Kayaking Company offers family tours for children six and older. Double kayaks are used to pair a parent with a child to check out all the fun creatures that inhabit the harbour and the tidal rocks .
Reviews: 100% recommend on Tripadvisor
But that's not all. Find more activities here:
Tofino has so many activities available that it is impossible to mention them all here.   For a complete rundown, including bear and whale watching tour information (more appropriate for children 6 and above), please see the activities page of the Tourism Tofino website.

.
Family Friendly Restaurants in Tofino
Tofino has amazing restaurants and, being a resort town, most of them are family friendly. Here are several that should not  be missed.
Note: I strongly feel that you should not have to sacrifice on food quality or on your dining experience just because you are eating out with a child. I strive to find places that can tick all of the boxes.
Wolf in the Fog
Style:  Contemporary, west coast fare
Price: $$
Reviews: 87% recommend on Tripadvisor
Notable: Was named Canada Best New Restaurant by Air Canada's enRoute magazine (2014), has an excellent kids' menu, pop in again for excellent coffee and baked goods in the morning.
Menus and more: See website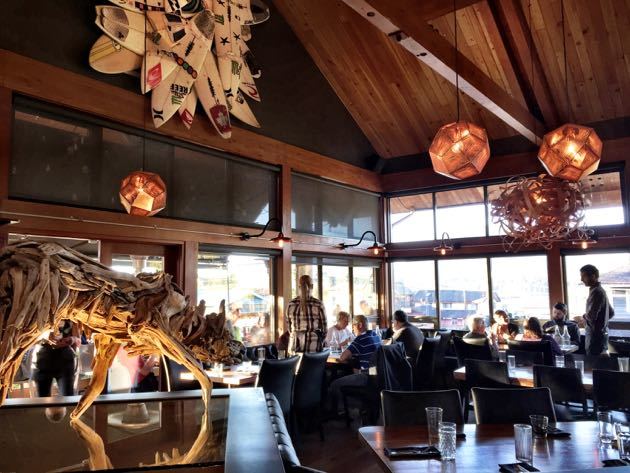 Sobo 
Style:  fresh local fare and seafood (plus amazing baked goods and desserts)
Price: $$
Reviews: 85% recommend on Tripadvisor
Notable: Not only do they have excellent food, they also have a kids' menu, play area outside on the deck, change table in the washroom and high chairs. Just try to resist their key lime pie.
Menus and more: See website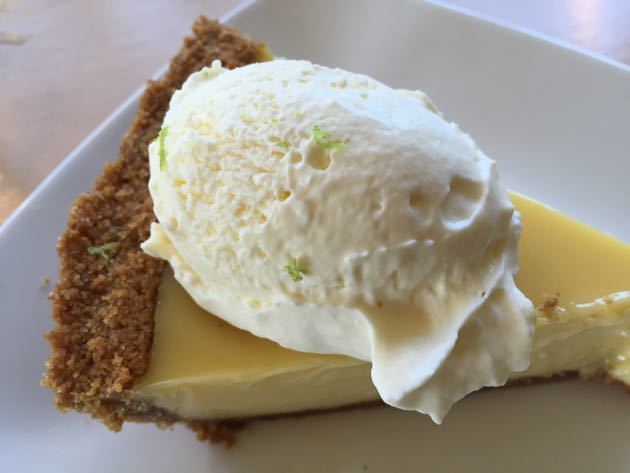 The Great Room at the Long Beach Lodge Resort 
Style: West Coast fare – finer dining
Price: $$
Reviews: 84% recommend on TripAdvisor
Notable: Incredible views, nice kids' menu
For menus and more: see website
Wildside Grill
Style: Casual BBQ and burgers
Price: $
Reviews: 91% recommend on TripAdvisor
Notable: very laid back with outdoor seating (easy with kids)
For menus and more: see website
Tacofino Cantina Food Truck
Style: Casual outdoor dining and amazing tacos
Price: $
Reviews: 96% recommend on TripAdvisor
Notable: a local institution not to be missed
For menus and more: see website
Chocolate Tofino
Style: house made chocolates and gelato
Price: $
Reviews: 96% recommend on TripAdvisor
For menus and more: see website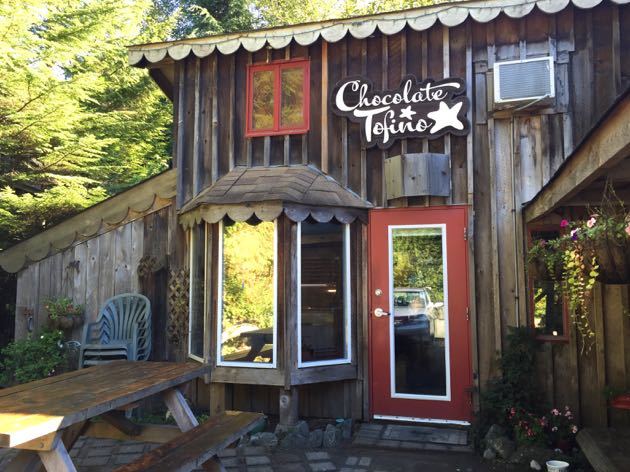 .
Getting to Tofino
Like many incredible places, getting to Tofino takes a little time (but well worth the wait).
The quickest way to get there is to fly in. Tofino has a number of flight options to choose from (both seaplanes and conventional airplanes).
If you are coming by car from Vancouver or Seattle, the journey takes most of a day, and you must first take a ferry from the mainland to Vancouver Island, followed by a lengthy drive. We left our Vancouver home at about 7am and arrived in Tofino at about 4pm (stopping to admire a few views and for lunch).
Please see Tourism Tofino getting to Tofino page for driving instructions and for current flight options.
Note:  If you are driving in, be sure to make a short stop at MacMillan Provincial Park's Cathedral Grove where you can stretch your legs on a trail amongst towering Douglas Fir trees up to 800 years old.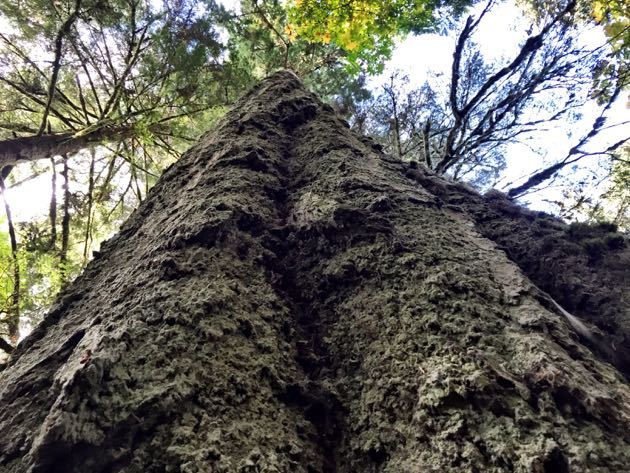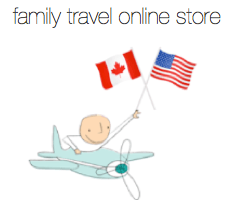 You may also enjoy the following posts:
A guide to Ucluelet, British Columbia – with Kids
A guide to Victoria, British Columbia – with Kids
A guide to Whistler, British Columbia – with Kids
A guide to Seattle, Washington – with Kids
A guide to Portland, Oregon – with Kids