Top 5 Baby Travel Beds and Portable Cribs
One of the biggest challenges for parents, is getting their baby or toddler to sleep well away from home. A comfortable infant travel bed or suitable travel crib for a toddler can be the key to your success. Having tried many options during years of traveling with a baby, I learned that having a proper portable baby crib was one of the keys to a great vacation. Of course, not all beds are created equal and in this post I will share with you the top 5 baby travel beds in terms of features, quality and value.
Important Disclaimer: I intend for the information on this website to serve as a general overview on matters of interest derived from my experience traveling with my own children. I am not an expert on the subject and safety of travel baby cribs and toddler beds. I attempt to ensure that the content is current and accurate but I do not guarantee its currency and accuracy. This post also contains Amazon Affiliate links which means that should you decide to make a purchase via one of the following links, Amazon will pay me a small commission which I use to help run this site. No extra cost will be incurred by you. For more information, please see our Terms of Use and Privacy Policy. Thank you very much for your understanding and support of Pint Size Pilot.
Portable Baby Crib and Toddler Travel Bed Buying Guide
Key Features for Baby Travel Cribs and Toddler Travel Beds:
Lightweight —  Let's face it, you are going to be toting this thing around, so it is advantageous to choose a lightweight travel crib, that doesn't sacrifice other key features.
Easy to Assemble — It could be late at night when you arrive at your hotel, vacation rental or Grandma's house. Your baby or toddler will be tired and you don't want to go to war with your travel cot. Set up should go as promised by the manufacturer.
Washable — Sh*t happens. It really does. I know this because my daughter once flung her full diaper around in a travel crib, creating quite a nasty mess. While rarely necessary, when disaster strikes, a washable travel bed is a blessing.
Breathable — For safety reasons, it is very important that baby travel bed have proper venting and breathable fabric.
Travel Bag – While not essential, it certainly is nice when a portable baby crib or toddler travel bed comes in a lightweight, easy-to-carry, travel bag. It's so much nicer than trying to shove one into a green garbage bag.
Travel Crib Comparison Chart
Please see the top 5 travel cribs described in detail below. For quick reference, however, see this handy chart. Click on headers to sort by column.
The Best Portable Baby Beds and Travel Cribs
1. Baby Bjorn Travel Crib Light – A Top Seller ! – From $215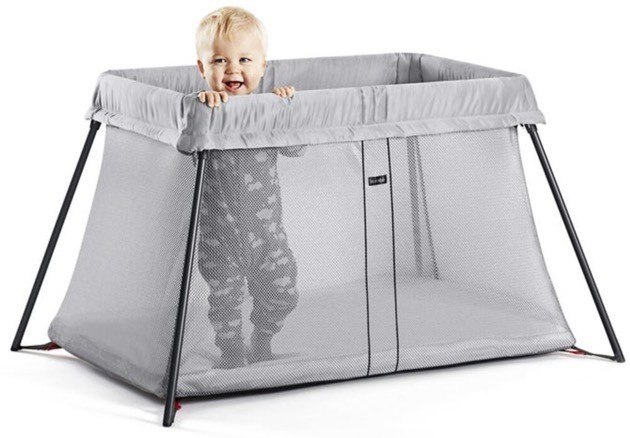 Features of the Baby Bjorn Travel Crib Light:
Buy the Baby Bjorn Travel Crib Light from $216 USD:


2. The Lotus Travel Crib and Portable Play Yard – From $198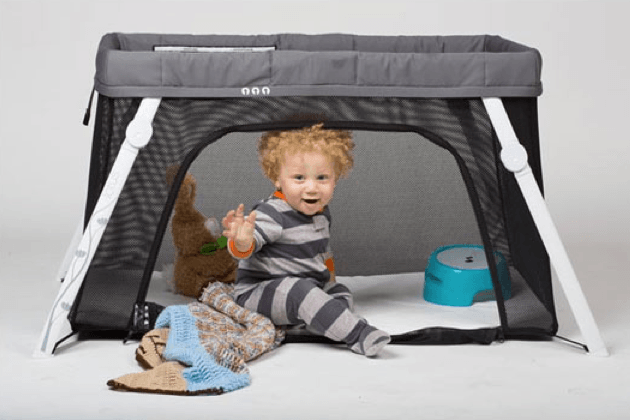 People simply love this travel crib (rarely do I see so many 5 star reviews ! ).  My two favorite things about this crib are the 15 second set up, and the clever mesh side door access so that you can slide a sleeping baby into it, rather than breaking your back trying to put them down carefully.
Features of the Guava Family Lotus Crib:
Buy the Lotus Travel Crib from $198 USD:
 
3. Brica Fold n' Go Travel Bassinet – From $39.99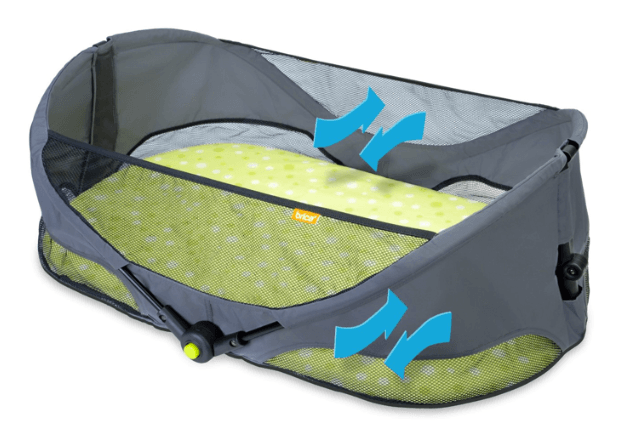 The Fold N' Go by Brica is my current favorite.  I recently saw a gentleman with this slung over his shoulder in an airport.  He looked so cool, that I actually mistook the folded bassinet for a hip sports jacket bag. Lightweight and compact, it is a great option for a first trip with an infant or baby.
Features of the Brica Fold n' Go Travel Cot:
Buy the Brica Fold n' Go Bassinet From $39.99 USD:

4. KidCo PeaPod Plus Travel Bed for Toddlers – From $99.95
I bought this for my daughter when she was about 2 years old.  Initially she wasn't interested in sleeping in it, but from about 3 years on, she would have slept in it every night if I let her. It is very light and compact, making it easy to bring along on trips or for sleepovers at Grandma's house. I also found it useful in situations where my children were not sleeping well together on a pull out sofa (a common family accommodation setup in hotels).  Although my daughter has now outgrown it, she still loves to set it up and play in it.  With as much use as we got out of the product, I think it provided great value.
Features of the Peapod Travel Bed for Toddlers:
Buy the KidCo PeaPod Plus From $99.99 USD:


5. The Shrunks Toddler Travel Bed – From $69.99 
The Shunks Inflatable Toddler Bed is a great solutions for sleepovers.  Setup is a cinch with the included electric pump.  It even comes in its own handy carry bag !
Features of the Shrunks Toddler Travel Bed:
Buy the Shunks Toddler Travel Bed From $69.99 USD: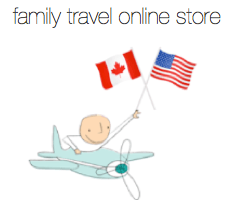 You May Also Enjoy the Following Posts:
Best Baby Car Seats for Airplanes – FAA Certified
Best Airplane Strollers and Travel Baby Carriers
Best Portable Baby High Chairs for Travel
10 Great Items for Travel with Baby