After a weekend in Tofino, British Columbia, my son gave the destination the esteemed rating of ten out of ten. Funnily enough, the only other place to have received top marks from him is Disneyland, so naturally I was relieved that he could also find a ten in a less commercial setting. Undoubtedly, it helped that we were staying at an amazing Relais & Châteaux property, on the sensational white sand Chesterman Beach, surrounded by an old growth cedar forest, on a brilliantly sunny weekend. Still, it is no coincidence that Conde Nast Traveler made special mention of Tofino when rating Vancouver Island as one of the Top Islands in the World.
Take a peek at family-friendly Tofino:
where to stay with kids in tofino
activities for kids in tofino
family friendly restaurants in tofino
getting to tofino
where to stay in tofino with kids:
the wickaninnish inn (website)
500 osprey lane (map)
(250) 725-3100
While there are many fabulous places to stay in Tofino, for us, there was no question.  I have been dying to stay at the Wikaninnish every since I first read about their grand opening many years ago.  Although I always considered it to be a romantic getaway, I was thrilled to realize that they are a family friendly property, having recently stumbled across their kids and pets page (both of which we now have).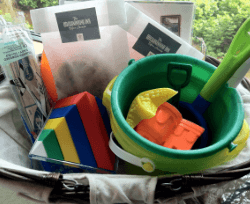 Upon entering our room, the kids dove into the "WickKids" basket full of goodies, including a treasure hunt, cookies, a frisbee, sand pails and more, and then set off to discover the library full of kid's books, DVD's and games. My husband and I were just as pleased with the complimentary babysitting offered by the hotel when you book into their award winning restaurant The Pointe. Another huge draw for hotels guests and locals alike are the special treatments available at the property's Ancient Cedars Spa.  Still…despite all these things to amuse us, almost nothing could tear us away from the stunning Chesterman beach right outside our room, with it's 3 kilometers of silver sand and tidal pools teeming with life. Not even nightfall as it turned out, since the hotel will keep the party going by building you a little beach bonfire.
Another huge highlight for us was the Saturday morning guided nature walk. My kids ask a lot of questions, and sometimes when I don't know the answer, and no other adults are around……I make stuff up.  The presence of an expert is always appreciated.
nightly rate: starting at $300 (winter) or $500 (summer) (see rate schedule)
hotel class: 5 star
rooms: a variety of room configurations in two separate buildings (see accommodations page)
reviews: 93% of family reviewers rate as very good or excellent on tripadvisor
note:  There are two separate building, each offering distinctly different views (calming beach view vs. rugged coastal view)  Check out the photos on their website to see which you would prefer.

activities for  toddlers and kids in tofino: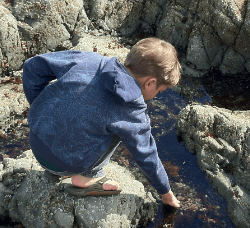 sandy beaches and tidal pools
There are many great beaches to explore in Tofino, but two favorites for kids are Chesterman and Mackenzie for their endless sand and super-sized tidal pools . Mackenzie is a little more sheltered for little ones wishing to do a little wading, although remember that the water is quite cold  (temperature peaks at about 17°C or 63°F). Optionally warm up later by a bonfire.  Since Tofino receives a lot of rain each year, fire bans on the beach are rare.
surfing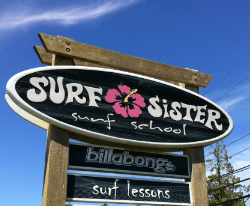 surf sister surf school (website)
625 campbell street (map)
250-725-4456
1-877-724-7873
Children as young as six can learn to surf with Surf Sister. While my children did not try it this time, I did, and can say that their instruction is absolutely fantastic.  I was up on my first wave within 10 minutes of getting in the water (after some land instruction).  The next 2 hours were filled will hoots, hollering, and lots of high fiving .  Guys confident and cool enough to sport Surf Sister's signature pink rash guard are also welcome to join in classes.
reviews: 88% recommend on tripadvisor
rates: group lessons start at $79 for 3 hours including board and wetsuit rental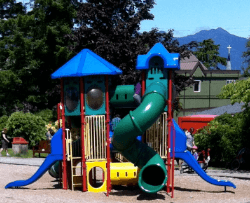 playgrounds and skate parks 
In the town of Tofino, there is a wonderful little playground for toddlers and older children alike (map). Picnic tables and washrooms are available. It is also adjacent to the Tofino Tuff City skate park.
Another great playground is located within the Crystal Cove Beach Resort near MacKenzie Beach (map)
the saturday market (website)
campbell street – btwn 2nd and 3rd (map)
when: may-sept 10am – 2pm
Experience something truly local by visiting the Tofino Public Market (their motto is "Make it, bake it, grow it and gather it").  It is fun for the whole family with it's festive atmosphere, great food, and unique local products. Kids especially love the yummy cupcakes from Tofino Cake Studio.  It is also conveniently located beside the children's playground and skate park.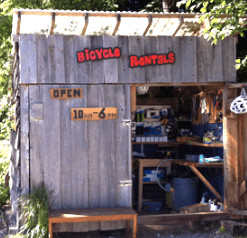 bike riding and bike rentals
Many hotels in Tofino have bikes for use. If, however, you are in need of a baby seat, trail-a-bike, or bike trailer, check out the following bike rental shops in Tofino.  You may even want to call to reserve ahead of time since these units can be very popular. Try The Beach House or Tons of Fun Bicycles Tofino (TOF).
sea kayaking
tofino sea kayaking company (website)
320 main street (map)
250-725-4222
Tofino Sea Kayaking Company offers family tours for children six and older. Double kayaks are used to pair a parent with a child to check out all the fun creatures that inhabit the harbour and the tidal rocks .
reviews: 100% recommend on tripadvisor
rates: $110 per parent-child combo ($60 per additional parent) – 2.5hrs
skim board / boogie board rentals
There quite a number of places in Tofino that rent boards as well as child and youth wetsuits including live to surf, pacific surf school, and surf junction.
the kwistis visitor's centre (website)
wick road (map)
hours: see chart
Formally known as the Wickaninnish Interpretive Centre, this facility gives visitor's the opportunity to learn more about Pacific Rim National Park and it's history, including a large emphasis on the region's First Nations history. Inside, exhibits range from a full sized canoe, to murals depicting flora and fauna found throughout the region and as well, a scale model of the entire park which outlines hikes, points of interest and other unique features of the area.
ucluelet aquarium (website)
180 main street (map)
(250) 726-2782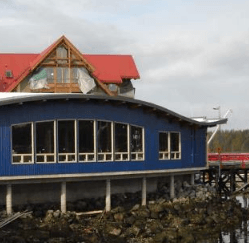 2012 marked the opening of a beautiful aquarium in nearby Ucluelet, where visitors can expect an up close and personal encounter with a diversity of local marine life. Almost all of the specimens in the exhibits are collected from the nearby Pacific Ocean, specifically from Barkley Sound and Clayoquot Sound, and are seasonally released back into the ocean.
reviews: 90% recommend on tripadvisor
rates: adult $12.50, child $6.25, student/senior $9 under 4 years free
hours: open daily 10am-5pm, july and august 10am-6pm


and yet more activities….
Tofino has so many activities available that it is impossible to mention them all here.   For a complete rundown, including bear and whale watching tour information (more appropriate for children 6 and above), please see the activities page of the Tourism Tofino website.

where to eat with kids in tofino:
sobo (website) - fresh local fare / seafood – $$  83% recommend on tripadvisor
311 neill street (map)
250-725-2341
note: they have a play area on the patio for children
shelter (website) - fresh local fare / seafood -$$$ 86% recommend on tripadvisor
601 campbell street (map)
250-725-3353

wildside grill (website) – burgers, tacos -$$      92% recommend on tripadvisor
1180 pacific rim hwy (map) or 1850 pacific rim hwy (map)
250-725-WILD (9453)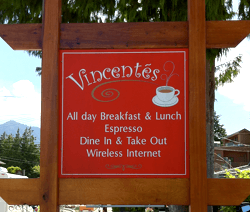 caffe vincente - breakfast/lunch – $
 84% recommend on tripadvisor
441 campbell street
(map)
(250) 725-2599
tacofino cantina food truck (website) - tacos – $ 96% recommend on tripadvisor
1184 pacific rim hwy (map)
250-726-8288
chocolate tofino (website) – homemade chocolates and gelato – $
 95% recommend on tripadvisor
1180 pacific rim hwy (map)
(250) 725-2526 or 1-855-CTOFINO
breakers deli (website) – breakfast/lunch – $      86% recommend on tripadvisor
430 campbell street (map)
(250) 725-2558
getting to tofino: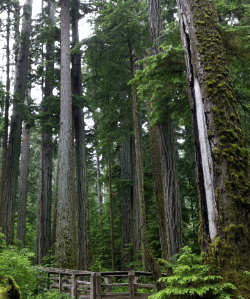 I would like to defer to Tourism Tofino website's very thorough instructions for getting to tofino.
If you are driving in, there area a couple of nice places to stop before your last 2 hour stretch.
1.  In MacMillan Provincial Park's Cathedral Grove, you can stretch your legs on a trail amongst towering Douglas Fir trees up to 800 years old (map).
2. The Harbour Quay in Port Alberni is a nice place to  grab a bite on a patio (try the Starboard Grill ), while watching tug boats go by.  There are also some nice shops and a playground (map).
* The Wickaninnish Inn was kind enough to offer me a media rate of $180/night during our stay and my surf lesson was complimentary courtesy of Surf Sister.  All other expenses were paid for personally. All opinions in this post are entirely my own and I would have happily paid full price for both experiences (although I was most appreciative of the break).
you may also enjoy the following posts:
victoria, british columbia – with kids
seattle, washington – with kids
portland, oregon – with kids
Did you enjoy this article?
If so, please subscribe to our newsletter for more tips and suggestions on travel with kids.